THE NICE BOX
"The sanfermines that you take with you, that you send, that you give away, that are always exciting."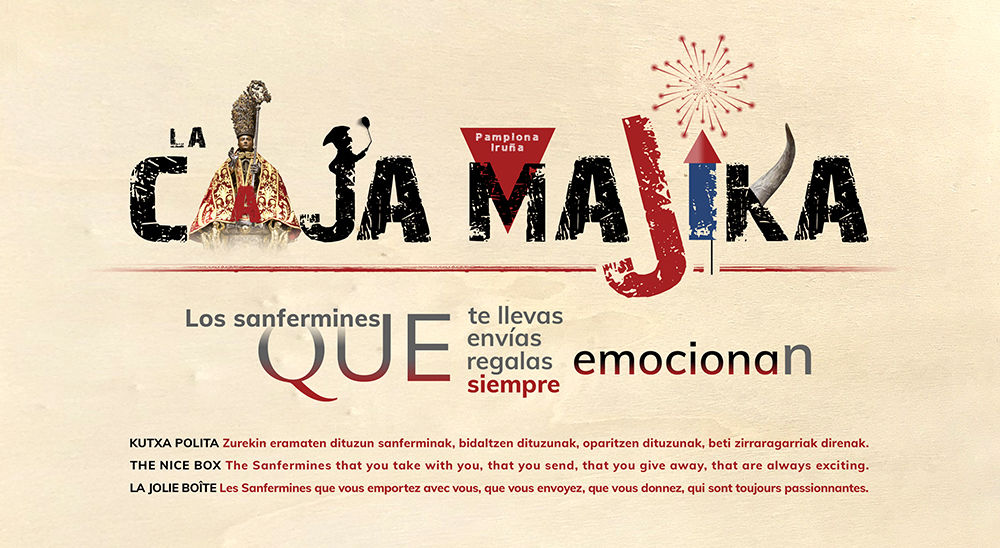 The perfect souvenir, the perfect gift.
The box has dimensions of 25cm wide by 35cm long by 10cm high and is specially designed to be shipped anywhere in the world. In this box you will find the essence of the San Fermín festivities packed to take away, a true memory of Pamplona and its San Fermín Festivities. There is the possibility of personalizing the box with the logo of the company or institution you want, thus turning the box into a perfect business or institutional gift. It is also possible to introduce a product of your company or institution, thus obtaining a complete personalization of La Caja Majika. We also have the possibility of defining other larger box sizes if necessary. For any question you want to resolve regarding La Caja Majika, do not hesitate to contact us at info@sanferminshopping.com .
1 IMAGE 20X28cm OF THE CHUPINAZO.
1 20X28cm IMAGE OF THE ENCLOSURE.
1 MAGNET OF THE COMPARSE OF GIANTS AND CABEZUDOS DE PAMPLONA.
1 STREET POSTER MAGNET.
1 POSTCARD FROM LA HORNACINA.
1 POSTCARD LANDSCAPE OF PAMPLONA.
1 SAN FERMÍN SCARF.
1 BOOK OF 3D PHOTOGRAPHS OF THE ENCLERRO.
1 MOUSE PAD FROM THE GIANTS AND CABEZUDOS COMPARTMENT OF PAMPLONA.
1 MAGNET AND 1 INFORMATIVE DISPLAY OF THE PAMPLONA CATHEDRAL.